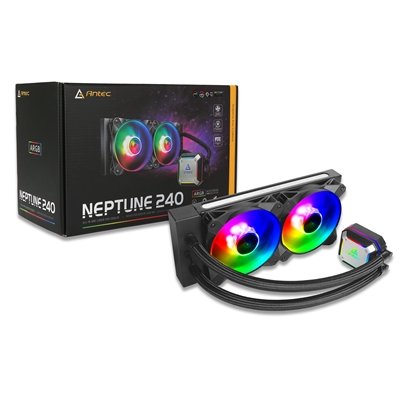 Antec Neptune 240 Universal Socket 240mm PWM 1600RPM ARGB LED AiO Liquid CPU Cooler with Wired ARGB Fan Controller
Description
Additional information
Description
ARGB NEPTURN 240
Advanced All-in-One ARGB Liquid CPU Cooler
– RGB 1.6 Million Colours
– Asus Aura Sync
– Razer Chroma RGB
– MSI Mystic Light Sync
– Gigabyte RGB Fusion Ready
– ASRock Polychrome Sync
The new generation of Antec all-in-one liquid CPU cooler, Neptune 240 ARGB, brings your build to next level. The integration of the water pump and radiator prevents the CPU from being damaged by vibration. The ultra-thin pump head reduces the volume when installing it on the CPU. Besides the aesthetics, the efficiency of thermal control is also improved.
– ARGB LED-Lit Ulra-Thin CPU Block
– ARGB LED-Lit PWM Fan
– Water Pressure of 1.2 Meters High
– SATA Power
– PTFE Teflon-Coated Tubing
ARGB LED-Lit Ultra-Thin CPU Block
The super-thin CPU black not only avoids incompatibility with certain motherboard head sinks, but also protects the motherboard from deforming due to the waight of the CPU cooler.
Unique ARGB LED-Lit Design
– Only 0.8mm Thick
– Thermal Paste Pre-Applied
The Advanced Integration of the Water Pump and Radiator
The water pump is located on the top of the radiator, which highly decreases the damage to the CPU caused by vibrations.
0.28 mm Wall Thickness
– Stronger Heat Transfer Doubles the Cooling Efficiency.
16.8 Million ARGB Light Effects
Sync the ARGB Lighting with the motherboard and have fun. Create various visual effects by the abundant ARGB lighting effects synchronized across all the compatible components.
– Fan Controller Included
Compatible with…
– Asus Aura Sync
– Razer Chroma RGB
– MSI Mystic Light Sync
– Gigabyte RGB Fusion Ready
– ASRock Polychrome Sync
ARGB LED-Lit PWM Fan
Cool your CPU with highly efficient dissipation of heat and light shows.
PTFE-Coated Tubing Technology
PTFE tubing reduces liquid loss. It also resists corrosion and aging.
– Double protection to prevent any leakage.
Fan Specifications
Dimensions: 120 x 120 x 25mm
Type: PWM ARGB LED Fan
Speed: 900 – 1600rpm +- 100
Airflow: 77 CFM max.
Noise: 20 – 36db (A)
Lifespan: 40000 hours at 25C room (ambient 15 – 65% RH)
Connections: 4-pin Fan & 3-pin ARGB
Radiator Specifications
Dimensions: 287 x 121 x 27mm
Material: Aluminum
CPU Block Specifications
Dimensions: 65 x 65 x 40 mm
Connection: SATA power
Water Pressure: 1m +- 0.2m
Flow Rate: 1.5L / min
Lifespan: 50000 hours at 25C room (ambient 15 – 65% RH)
Noise: < 36dB (A)
Tube Specifications
Dimensions: 8 x 10 x 348 mm
Socket Compatibility
Intel: LGA 1150 / 1151 / 1155 / 1156 / 1366 / 2011-V3 / 2066
AMD: FM2 / FM1 / AM3+ / AM3 / AM2+ / AM2 / AM4 / x TR4
General
Net Weight: 0.8 Kgs
Gross Weight: 1.9 Kgs
Package Size: 327 x 207 x 158mm (DWH)