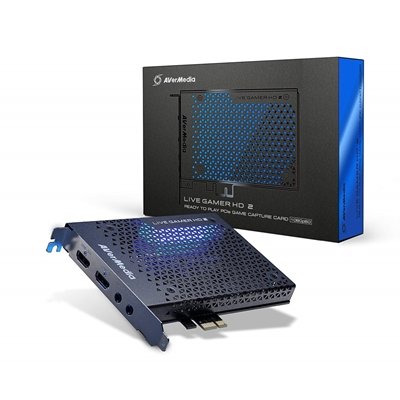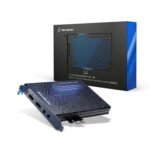 AVerMedia GC570 Live Gamer HD2 Internal RGB HDMI Capture Card
Description
Additional information
Description
The second installment of Live Gamer HD has arrived! Packed with more power and style, Live Gamer HD 2 (LGHD2) is a plug-and-play PCIe-capturing beast that records and streams smooth, uncompressed, zero-lag gameplay in 1080p 60 fps.
1080p60 Uncompressed Video
LGHD2 is built for speed and quality. By capturing uncompressed videos, LGHD2 simplifies your PC operations and delivers smoother and sharper 1080p60 streaming.
Ready to Play: No Driver Needed
Tired of installing drivers? Dont you worry. LGHD2 doesnt require driver installation. Insert it into a PCIe slot and its ready to roll.
Flexible Audio Connection
Having more audio options is always a plus when it comes to capturing. Connect digitally via HDMI or analog via 3.5 mm ports, you can record audio from consoles, PCs, or even output to mixers for audio mixingthe flexibility is yours.
Compressed Video Output
Besides uncompressed videos, LGHD2 also delivers compressed videos that require less transmission bandwidth, so you can use multiple LGHD2s to capture different sources at the same time.
Get to Know the Design
If theres a geometric shape that can represent gamers, it would be a trianglea combination of vitality (a circle) and stability (a square) which outlines gamers charactistics. And based on this key element, we created a triangle metal mesh. Aside from its premium built quality and stylish design, it also provides excellent protection, ventilation, and allows the LED lighting to shine through.
Packaging
The same design is beautifully presented on LGHD2s packaging. Engraved and cut by high precision laser, the triangle mesh looks just as astonishing on paper sleeve as on metal sheet. The design of the inner box is also carefully thought through. Its pattern and silvery blue finishing mimics the LED lighting as you slowly pull it out of the sleeve. It's a one-of-a-kind unboxing experience.
Powerful Streaming & Recording SoftwareRECentral 3
The stylish and robust RECentral can get you started and stream like a pro in no time on Twitch, YouTube, Facebook and more. RECentral 3 also provides Stream Engine plug-in to optimize performance when using 3rd party software like OBS and XSplit.
Specifications
Maximum Resolution
1080p60
PC Interface
PCIe
Pass-Through
Yes
Ultra Low Latency
Yes
MJPEG
Yes
Uncompressed
Yes
Bundled Software
RECentral 3
XSplit and OBS Support
Yes
OS Support
Windows 10 / 8.1 / 7
Technical Specifications
Interface:PCI-Express Gen 2 x1
Video Input:HDMI
Video Output (Pass-Through):HDMI
Audio Input:HDMI / 3-Pole 3.5 mm Jack
Audio Output (Pass-Through):HDMI / 3-Pole 3.5 mm Jack
Max Pass-Through Resolutions:1080p60
Max Record Resolutions:1080p60
Supported Resolutions (Video input):1080p, 1080i, 720p, 576p, 480p, 480i
Record Format:MPEG 4 (H.264+AAC) / MJPEG
Dimension (W x D x H):125 x 151 x 21.5 mm (4.92 x 5.94 x 0.84 in)
Weight:145 g (5.11 oz)
System Requirements
For 1080p60
Desktop:
Intel Core i5-3330 or above (i7-3770 recommended)
NVIDIA GeForce GTX 650 / AMD Radeon R7 250X or above are recommended
4 GB RAM
What's in the box?
Live Gamer HD 2 (GC570)
HDMI cable
3-Pole 3.5mm audio cable
Quick guide