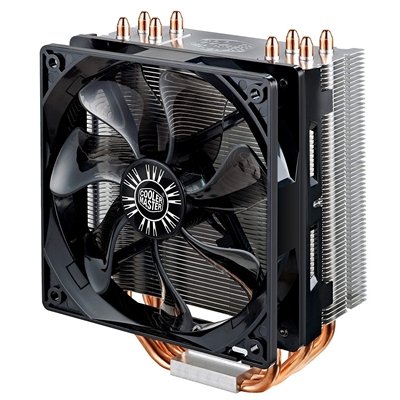 Cooler Master Hyper 212 EVO Universal Socket 120mm PWM 1600RPM Black Fan CPU Cooler
Description
Additional information
Description
Hyper 212 EVO
– Well-balanced cooling performance provides fin optimizations with perfect balance between high and low speed operations.
– 4 Direct Contact heat pipes with the patented CDC (Continuous Direct Contact) technology – creating a perfect, sleek surface for heat conduction.
– Wide-range PWM fan with unique wave-shaped blade design for excellent airflow.
– Versatile all-in-one mounting solution supporting the latest Intel LGA 1366 / 1155 / 1151 / 1150 and AMD FM2 / FM1 / AM3+.
Well-Balanced Cooling
Fin optimizations provide balance between high and low speed operations.
4 Direct Contact Heat Pipes
Aluminum fins with 4 direct contact heat pipes to provide excellent heat dissipation.
CDC Technology
Patented CDC (Continuous Direct Contact) technology – Side-by-side heat pipe configurations with no gaps creating a perfectly smooth surface for heat conducton.
All-in-one Mounting Solution
Compatible with Intel Socket LGA 1366/1156/1155 and AMD Socket FM1/AM3+/AM3/AM2+/AM2.
Dual-Fan Design
Supports an optional 2nd 120mm fan to increase cooling performance.
120mm PWM Fan with Quick-snap Fan Bracket Design
Includes a new 120mm PWM fan with anti-vibration rubber pads and a quick-snap cover for an easily expedited fan installation.
CDC vs. Direct Contact
– Continuous Direct Contact
Thanks to high precision machinery several heat pipes can be combined into a tightly packed virtual vapor chamber array with a perfectly flat and uniform surface. As a result the IHS and CPU below it gets cooled more evenly, and more heat pipes can be packed in a small space improving cooling performance.
– Direct Contact
Gaps between heat pipes result in uneven heat distribution which can create or worsen hot spots on the CPU. As a result of the gaps the amount of heat pipes touching the centre of the IHS is lower, and their surface area is lower, reducting the heat sinks efficiency.
Model
Hyper 212 EVO
Model Number
RR-212E-16PK-R1 (EU Version)
Socket Compatibility
Intel: LGA 2066 / 2011-3** / 2011** / 1366 / 1156 / 1155 / 1151 / 1150
AMD: AM4* / AM3+ / AM3 / AM2+ / AM2 / FM2+ / FM2 / FM1
*AMD AM4 upgrade kit needed – please visit: AMD AM4 Ryzen Compatibility
Heat Sink Specifications
Heat Sink Dimensions: 116 x 51 x 159mm
Heat Sink Material: 4 Direct Contact Heat Pipes / Aluminum Fins
Heat Sink Weight: 465g
Heat Pipes Dimensions: o/ 6mm
Fan Specifications
Fan Dimension: 120 x 120 x 25mm
Fan Speed: 6001600RPM (PWM) +- 10% (EU Version)
Fan Airflow: 24.9 66.3 CFM +- 10% (EU Version)
Fan Air Pressure: 0.3 1.7mm H2O +- 10% (EU Version)
Fan Life Expectancy: 40,000 hrs
Fan Noise Level: 9 – 31 dBA (EU Version)
Bearing Type: Long Life Sleeve Bearing
Connector: 4-Pin
Fan Rated Voltage: 12 VDC
Fan Rated Current: 0.19A (EU Version)
Power Consumption: 2.28W (EU Version)
Fan Weight: 104g
Product Dimension
120 x 80 x 159mm