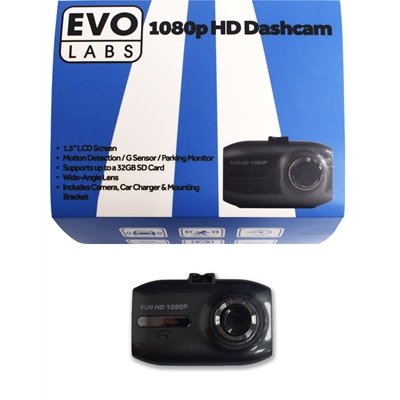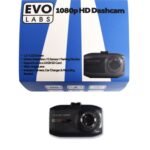 Evo Labs C200 1080p Full HD Dashcam With Motion detection Includes Suction Mount
Description
Additional information
Description
The Evo Labs C200 1080p HD Dashcam car video recorder. Produces a crisp high definition image with a wide-angle lens. Record your journeys so that in the event of an accident that wasn't your fault, you can prove to police/insurance companies with video footage from the Dashcam. The camera loop records in video with lengths of a few minutes until the memory card is full. It then over-writes the oldest videos first so you will always have a log of your recent journeys which can be viewed either on the camera or by putting the SD card in a card reader.
Emergency recording for critical evidence
In the event of a collision, the built-in sensor will detect the impact and instantly trigger an emergency recording. The C200 Dashcam will Video Date Stamp the footage to prove time and date of incident for critical evidance.
Car mount
Evo Labs C200 comes with a suction mount to keep your camera secure in place.
Safety Precautions
For your own safety, do not operate the Dashcam while driving.
Never place the Dashcam where the drivers view or deployment of airbags is obstructed.
Do not mount the Dashcam on a tinted window to prevent damage to the tint film.
Mount the Dashcam within the range of the windshield wipers to ensure clear visibility in rain.
If the lighter socket in your car continues to provide power after the engine is switched off, unplug the Dashcam when the engine is off or idling to reduce unnecessary power consumption and prevent any unexpected problems.
Whats in the package
-HD Dashcam with 1.5" LCD Screen with settings and recording controls
-Mini USB Car Lighter port charger with 2 Metre cable
-Windscreen suction mount
-Slot for up to a 32GB MicroSD Memory Card
Camera Features
-Wide angle lens
-720p and 1080p recording options
-Records audio
-Up to 3 minute video segments (after 3 minutes a new segment will start)
-Video Date Stamping to prove time and date of incidents
-Motion detection – if the car moves or is hit when parked, the sensor in the camera will switch on recording
-1.5 inch screen
-Extremely compact camera, will fit very discreetly to your windscreen