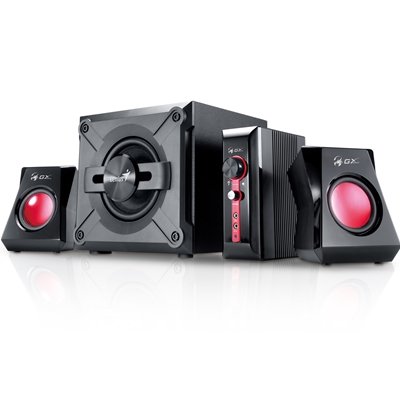 Genius GX Gaming SW-G 2.1 1250 V2 Black & Red Gaming Speaker System
Description
Additional information
Description
Genius GX Gaming SW-G2.1 1250 Version 2
Powerful 2.1 system for gaming and media
Rich and deep bass
Ultra-rigid wooden cabinet subwoofer delivers rich and deep bass, letting you experience fierce gaming battles.
Strong surround sound
Two curvaceous satellite speakers deliver strong middle and high sound range with well balanced sound.
Glossy surface design
The glossy surface with a mix of black and red decorates your desk beautifully.
Independent volume and bass controls
An individual control box makes it easy to adjust volume and bass.
Headset and microphone connector
You can enjoy powerful sound with other gaming and media devices.
Total Output Power
38W
Subwoofer: 20W
Satellites: 2 x 9W
Driver Unit
Subwoofer: 5.25"
Satellites: 3"
Frequency Response
58 Hz – 20K Hz
Weight
4780g
Dimensions ( W x H x D )
Subwoofer: 230 x 215.5 x 237.5 mm
Satellites: 112 x 140 x 99 mm
Controls Box: 60 x 170 x 154 mm
Colours
Red & Black
What's in the Box
Subwoofer
Two satellite speakers
Controller
Two RCA to 3.5mm cables
3.5mm plug audio cable
Multi-language user manual