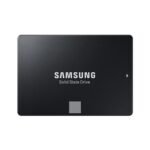 Samsung 860 EVO Series 1TB 2.5" SATA III SSD
Description
Additional information
Description
The Samsung SSD 860 EVO
The Samsung SSD 860 EVO is the newest of Samsungs Client-PC SATA SSDs, specially designed for mainstream desktops and laptops. Building on the reputation of the Samsung SSD 850 EVO, the worlds first line of consumer SSDs with V-NAND 3bit MLC technology, the new Samsung SSD 860 EVO drives achieve industry-leading performance for SATA SSDs, offering improvements in speed, reliability, compatibility and capacity. The 860 EVO comes equipped with Samsungs newly designed MJX controller along with the latest V-NAND architecture.
Enhanced Computing Experiences
The legacy Serial-ATA (SATA) interface faces the theoretical bandwidth limitation of 600MB/s which many SSD manufacturers have tried to reach over the years. Among them, Samsung, which first brought V-NAND technology to the market, continuously strives to improve product reliability and performance, even with the SATA interface limitations. Powered by Samsungs latest V-NAND technology, the 860 EVO delivers top-notch sequential read (up to 550 MB/s) and write (up to 520 MB/s) speeds and along with high sustainable performance for everyday computing experiences.
As the amount of data processing continuously increases, the need for faster data transfers and sustainable high performance over longer periods of time has become paramount in importance for users. To address this need, Samsung has newly introduced Intelligent TurboWrite technology. With this, the 860 EVO provides significantly accelerated write performance which is up to 6 times longer than that of the previous 850 EVO. Intelligent TurboWrite automatically decides how much space to allocate to the TurboWrite region in accordance with your system workload. So in a heavy workload situation, TurboWrite region will expand by up to 6 times versus that of the previous version of TurboWrite. Helping to avoid sudden write performance drops which sometimes occur when performing large file transfer and ensuring that consumers enjoy the best write performance for longer than ever.
Worry-Free Reliability
The 860 EVO offers guaranteed endurance and unmatched reliability, with up to 6 times higher Total Bytes Written (TBW) than the previous 850 EVO and an industry-leading 5 year limited warranty. Up to 2,400 TBW powered by the latest V-NAND technology will give you absolute confidence in your SSD.*
*All documented endurance test results are obtained in compliance with JESD218 standards. Please visit www.jedec.org for detailed standard information.
Furthermore, the 860 EVO assures long-term dependable performance with minimal performance degradation. The 860 EVO provides up to 51% better sustained performance compare to that of its predecessor. This means you can fully experience the performance of the SSD even with heavy daily workload.
Expanded Compatibility with a Refined Controller
The 860 EVO delivers expanded system compatibility. The refined ECC algorithm and revamped controller generate strong sustainable performance near SATAs limits, and the improved queued trim provides for better Linux compatibility. Also the 860 EVO is available in 2.5-inch, mSATA, and M.2 form factors for a broad range of computing device.
Advanced Data Encryption
The 860 EVO provides multiple advanced data encryption features. Self-Encrypting Drive (SED) security technology will help keep data safe at all times. The 860 EVO includes an AES 256-bit hardware-based encryption engine to ensure that your personal files remain secure. Being hardware-based, the encryption engine secures your data without the performance degradation that you may experience with software-based encryption. Also, the 860 EVO is compliant with various advanced security management solutions (TCG Opal and Encrypted Drive-IEEE1667).
Samsung Data Migration and Magician Software
The 860 EVO comes with Samsung Data Migration and Magician Software, which is easy to install and makes management of you SSD simple. Samsung Data Migration software is uncomplicated to use yet provides a very powerful Custom Cloning feature that makes migration effortless even when the source data is greater than the SSDs capacity. Magician provides personalized firmware checks and additional functions tailored for individual users drives. It even updates the firmware automatically to make sure that the drives performance stays up to date.
Capacity
1TB
Model
860 EVO
MZ-76E1T0B/EU
Interface
SATA III 6.0 Gbit/s (backwards compatible with 3.0 Gbit/s and 1.5 Gbit/s)
Controller
Samsung MJX Controller
Sequential Read & Write
Up to 550 MB/s Read
Up to 520 MB/s Write
4KB Random Read & Write
Up to 98,000 IOPS Read
Up to 90,000 IOPS Write
Physical Drive Size
2.5"
Packaging
Retail