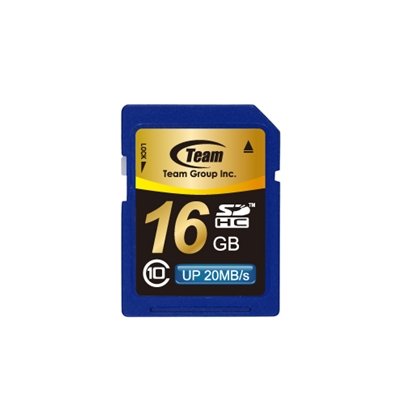 Team 16GB SDHC Class 10 Flash Card
Description
Additional information
Description
The Team 16GB SDHC Class 10 memory cards from Team are designed for high-level consumer electronics, computing and communication products. Supporting SDv3.0, the series also supports electronic products using SDv2.0 and SDv3.0. On equipment using SDv2.0, it supports a minimum writing speed at 13MB/sec.On photographic equipment using SDv3.0, it supports a maximum writing speed at 20MB/sec to ensure high-speed video recording and high-speed shooting functions for recording every precious moment.
Key Features:

Write protect
Yes

Capacity
16GB

Adaptor
No

Unboxed Weight
2g

Working voltage
2.7-3.6V

Operation temperature
0c to 60c

Static temperature
-25c ~ +80c

Data transfer rate
Read 15 – 20Mb/sec
Write 10 – 16Mb/Sec

Size (W x H x D)
24x32x2.1mm

Warranty
Lifetime warranty
More Information
The SDHC Class 10 memory cards are available from 4GB-32GB for users for flexible storage of more music, movie, image and other files in order to fulfill the demands for multidimensional entertainment for users to enjoy high-quality audiovisual life.