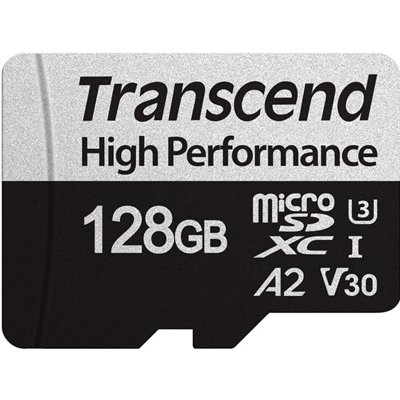 Transcend 128GB Micro SDXC 330S Class 10 UHS-I U3 A2 Flash Card
Description
Aiming for mobile devices and handheld game consoles, Transcend's High Performance microSDXC 330S memory cards compliant with the latest A2 speed class boast excellent random read/write speed for retrieving small pieces of data from random locations, and speeding app launch time.
A good fit for mobile storage
Mobile games and handheld game consoles, such as the Nintendo Switch, are getting more popular. Both applications require great random read/write performance and storage expansion. Compliant with the latest A2 specification, Transcend's microSDXC 330S memory cards are the right fit for mobile apps and handheld game consoles.
Introducing Application Performance Class
The Application Performance Class was introduced to fulfill the growing need for a better combination of random and sequential performance on mobile devices. Transcend's microSDXC 330S memory cards meet the new A2 standards, delivering minimum random read of 4,000 IOPS and random write of 2,000 IOPS, and sustained sequential speeds of at least 10MB/s.
Note: Please make sure your device supports SD 6.0 specification or later to reach the optimal A2 performance.
Show the transfer capabilities
Transcend's microSDXC 330S memory cards meet both the UHS Speed Class 3 (U3) and the UHS Video Speed Class 30 (V30) standards for 4K Ultra HD video recordings, with read/write speeds of up to 100MB/s and 85MB/s respectively.
Store as many as you wish
In addition to excellent random read/write performance, Transcend's microSDXC 330S memory cards come in up to 128GB storage capacity, allowing you to keep more digital files and apps at hand!
Built for extremes
To deliver the best performance and stability, Transcend's microSD memory cards are tested to withstand extreme conditions. They are temperature resistant, waterproof, shock proof, X-ray proof, and static proof.
Capacity
128GB
Speed Class
Class 10
Adapter
No
Unboxed Weight
0.4g
Working voltage
2.7v – 3.6v
Operation temperature
-25c to 85c
Static temperature
-40c to +85c
Data transfer rate
Read Speed (Max.)100 MB/s
Write Speed (Max.)85 MB/s
Size (W x H x D)
11 mm x 15 mm x 1 mm (0.43" x 0.59" x 0.04"
Flash Type
3D NAND flash
Warranty
Lifetime warranty