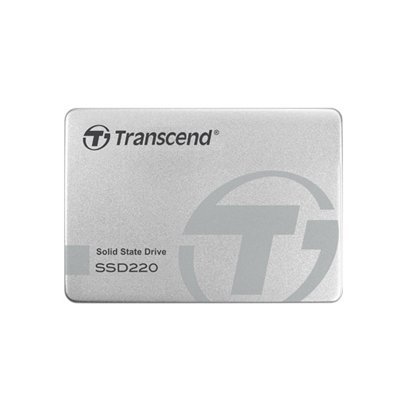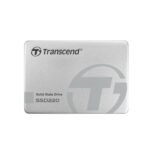 Transcend 480GB 2.5" SATA III SSD
Description
Additional information
Description
Looking for the best entry-level solid state drive? This is it. Transcend's SSD220 SATA III 6Gb/s SSD boasts uncompromising transfer speeds of up to 540MB/s to accelerate system boot-up and loading times at an economic price point. By using only high-quality flash chips and enhanced firmware algorithms, Transcend's SSD220 is guaranteed to deliver greater reliability. With full support of SATA Device Sleep Mode (DevSleep), the Transcend SSD220 can prolong notebook battery life by consuming up to 90% less power.
Transfer speed, transfer performance
Transcend's SSD220 provides an incredible 4K random read and write performance of up to 280MB/s, making it the perfect alternative as a boot disk to load your everyday computing tasks and programs in just seconds. Taking full advantage of the SATA III 6Gb/s interface and built in with SLC caching technology, the SSD220 achieves exceptional transfer speeds of up to 540MB/s read and 500MB/s write.
Endurance. Reliability.
In addition to blazing-fast transfer speeds, the SSD220 is engineered with a RAID engine and LDPC (Low-Density Parity Check) coding, a powerful ECC algorithm, in order to keep your data secure. Built-in wear-leveling technology ensures data integrity during transmission, prolonging the lifespan of Transcend's SSD220.
Save power, save time
With full support of SATA Device Sleep Mode (DevSleep), the SSD220 can prolong notebook battery life by intelligently shutting down the SATA interface when it is not in use. DevSleep features an ultra-low power state to conserve battery power. With a remarkable response time of less than 20 milliseconds, you can get back to work instantaneously.
Take control with SSD Scope
To keep your Transcend SSD running fast, optimized, and error-free, Transcend's advanced SSD Scope software application is available to download and is compatible with the SSD220. Monitor your SSD's health status with S.M.A.R.T. technology, enable the TRIM command for optimum write speeds, keep your SSD's firmware up-to-date, and migrate data from your original drive to a new SSD in just a few clicks.
Ultra-slim, ultra-portable
The SSD220 features an industry-standard 2.5" form factor. Yet, it measures just 6.8mm in height and only weighs a mere 63g, which is best suited for ultra-thin computing devices such as Ultrabooks, in addition to mainstream PCs.
Capacity
480GB
Model
TS480GSSD220S
Interface
SATA III 6.0 Gbit/s (backwards compatible with 3.0 Gbit/s and 1.5 Gbit/s)
Sequential Read & Write
Sequential Read (ATTO): 540 MB/s
Sequential Read (CDM): 200 MB/s
Sequential Write (ATTO): 500 MB/s
Sequential Write (CDM): 280 MB/s
4KB Random Read & Write
4K Random Read: Up to 50K IOPs
4K Random Write: Up to 75K IOPs
Physical Drive Size
2.5"
Packaging
Retail