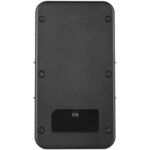 Transcend 64GB Drive Pro 30 Body Camera
Description
Additional information
Description
Transcends DrivePro Body 30 is a feature-packed body camera designed specifically for public safety professionals. With a twelve-hour battery life, IP67 rated environmental sealing, military-grade shock resistance, and a pre-event buffer, the DrivePro Body 30 is always ready for action. The Sony image sensor, high-quality lens, automatic infrared illumination, and six-axis image stabilization guarantee clear, high-definition evidence collection. Paired with Transcends DrivePro Body App for iOS and Android smartphones, users can easily control the DrivePro Body 30 and manage videos and photos on the device.
Sony high-sensitivity image sensor
The DrivePro Body 30 features Sony sensor to capture high-resolution images with superb, rich color even in low light. Images are highly detailed with low noise and excellent balance between light and dark areas.
Infrared LEDs for night vision
The DrivePro Body 30 has four infrared LEDs that will automatically turn on in dim light to enhance night vision capabilities. This can drastically increase recording quality in pitch-black darkness.
Image stabilization technology
To minimize blurriness while moving and using the camera, the DrivePro Body 30 features a six-axis MEMS sensor that reduces the effect of motion on the camera.
Bluetooth and Wi-Fi connectivity
The DrivePro Body 30 supports both Bluetooth for basic setup and switching modes, and Wi-Fi connectivity for live streaming videos to iOS and Android mobile devices.
Exclusive DrivePro Body App
Specifically designed for Transcend DrivePro Body body cameras, the DrivePro Body App is a handy utility for users to adjust camera settings and access recorded footage and snapshots right away. To prevent evidence from being tampered with, the DrivePro Body App allows users to embed every recording and snapshot with a clearly visible user ID and timestamp.
Pre-event buffering mode
The DrivePro Body 30 features buffering capability that can effectively save storage space and power consumption. When an incident occurs, short press the power button once. The file being recorded, along with the minimum 30 seconds prior to the incident happens, will then be stored on internal memory.
Rugged and durable design
The DrivePro Body 30 is built to withstand harsh environmental conditions, making it ideal for outdoor recording. It is IP67 rated and offers full protection against dust and water. It also meets rigorous US military drop-test standards for shock resistance
Long battery life
The DrivePro Body 30 has a built-in Li-Polymer battery, allowing up to 12 hours of video recording on a single charge. This allows police and other professionals to record over a full shift.
Battery power indicator
To check the current battery level, short press the status button on the left-hand side. Solid green indicates ample battery power; solid orange indicates one-half of the power remaining; solid red means low power.
Capacious storage space
The DrivePro Body 30 has built-in 64GB eMMC storage which can save up to 12 hours of Full HD 1080P video, and 4GB of DDR3 memory cache which can hold up to 2 minutes of video.
Quick snapshot button
The quick snapshot function allows users to take photos while recording video simultaneously. During an incident, just reach up and press the snapshot button to capture photographic evidence on the spot.
DrivePro Body Toolbox
Transcend's DrivePro Body Toolbox is exclusively designed for the DrivePro Body series, featuring a user-friendly interface that allows users to securely manage recorded videos and snapshots on Windows PCs. In addition, users can adjust settings for both the toolbox and the DrivePro Body device, format the internal storage, and upgrade the body camera's firmware via the toolbox.
Interchangeable mounting accessories
The DrivePro Body 30 includes both a 360 rotatable clip and a Velcro holder. The 360 rotatable clip is suitable for most uniforms and jackets, whereas the Velcro holder can be easily attached to uniform vests, allowing users to be ready for the moment duty calls.
Wide-ranging applications
Body cameras have proven effective in documenting an entire event as evidence to protect oneself and others. Aside from police officers and security guards, the DrivePro Body 30 is also suitable for professional use by firefighters, medical staff, rescue teams, and construction workers.
Multifunctional docking station
Exclusively designed for the DrivePro Body 30, Transcend's TS-DPD6N docking station offers a complete camera management, charging, and data upload solution. The six-port docking station has two Ethernet ports, a LAN port for administrative setup, and a WAN port for simultaneous data upload to a designated folder while charging.
Legal Disclaimers
The DrivePro Body 30 was tested under controlled laboratory conditions and given a rating of IP67 under IEC standard 60529. Splash, water, and dust resistance are not permanent conditions and resistance may decrease as a result of normal wear. Product must be clean and dry before use. Liquid damage not covered under warranty. The US military drop-test standards based on MIL-STD-810G 516.6-Transit Drop Test.
Recording time may differ based on environmental conditions.
Footage recorded with infrared LEDs will be in grayscale.
Please see Transcend website for additional warranty details and limitations.
Features
-High sensitivity image sensor
-Infrared LEDs for night vision
-Six-axis image stabilization technology
-Supports Bluetooth technology and Wi-Fi connection
-Pre-event buffering mode
-Built-in twelve-hour battery for all day recording
-Compliant with IP67 and U.S. military standards to be dust-proof, waterproof, and shock resistant
-Up to 64GB capacious storage space
-360 rotatable clip and Velcro holder included
-Free download of DrivePro Body Toolbox
-Two-year Limited Warranty
Whats in the package
-DrivePro Body 30
-Adapter
-3.5mm to USB cable
-360 rotatable clip
-Velcro holder
-Quick Installation Guide
-Warranty Card
Specifications
Dimensions: 95.9mm x 52.2mm x 27.6mm (3.78" x 2.06" x 1.09")
Weight: 130g (4.59 oz)
Lens: F/2.0, 130 wide angle
Microphone: Built-in
Resolution/Frame Rate: Full HD (1920×1080) / 30fps
Video Formats: H.264 (MOV: up to 1920×1080 30fps)
Storage Capacity: 64GB internal memory
Connection Interface: USB 2.0
Battery Type: Li-Polymer
Power Supply: Input: AC 100V-240V, 50-60Hz, 0.4A Max
Output: DC 5V 2A
IP Rating
: IP67
Certificates: CE, FCC, BSMI, NCC, MIC