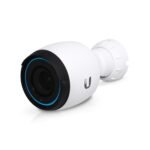 Ubiquiti UVC-G4-PRO UniFI Video Camera Pro 4K PoE IP Camera (3 Pack)
Description
Additional information
Description
Capture every detail with the 4K resolution G4-PRO camera. The G4-PRO is our most powerful camera yet, with a large 1/2" image sensor, 3X powered optical zoom lens, and integrated high-power infrared LEDs for night vision. The adjustable base can be mounted to a flat surface or a pole with the included mounting hardware.
Specifications
Dimensions
Length: 153mm (6.02")
Diameter: 86mm (3.39")
Weight
0.7kg (1.54lb)
Enclosure
PC/TPE/Aluminum Alloy
(ADC-12 + Liquid Coating)
Networking Interface
(1) 10/100/1000 Mbps Ethernet Port
Sensor
OS08A10, 1/2"
Lens
F 4.1mm – 12.3mm; f/1.53 -f/3.3
LED Ring
LED Ring
Field of View
Wide 108 (H), 58 (V), 125 (D)
Tele 37 (H), 20 (V), 43 (D)
Night Mode
IR LEDs with Mechanical IR Cut Filter
Video Compression
H.264
Resolution
4K2K (3840 x 2160)
Max. Frame Rate
24 FPS
Image Settings
Flip, Brightness, Contrast, WDR, Hue, Infrared, Sharpness, Saturation, Denoise, 50/60 Hz Flicker Reduction
Management Interface
UniFi Protect
Camera Integrated Web UI
Microphone
Yes
Max. Power Consumption
12.5W
Power Method
IEEE 802.3af/at
Power Supply
802.3af/802.3at or
UniFi PoE Switch
Buttons
Factory Reset Button
Mounting
Wall, Ceiling, Pole (Kits Included)
Operating Temperature
-20 to 50 C (-4 to 122 F)
Operating Humidity
0 to 90% Noncondensing
Weatherproofing
IP67